Pelatihan Penyusunan Laporan Keuangan Secara Sederhana Pada Mahasiswa Fakultas Ekonomi Universitas Muhammadiyah Sorong
Keywords:
Laporan Keuangan, Secara Sederhana, Mahasiswa
Abstract
Laporan keuangan merupakan informasi yang dapat digunakan oleh berbagai pengguna kepentingan untuk mengetahui kinerja suatu perusahaan yang sangat berguna untuk mendukung pengambilan keputusan yang tepat. Tujuan dari laporan keuangan adalah menyediakan informasi yang menyangkut keuangan , kinerja serta perubahan posisi keuangan suatu perusahaan yang bermanfaat bagi sejumlah besar pemakai dalam pengambilan keputusan. Tujuan dari penelitian ini adalah : untuk mengetahui penyusunan laporan keuangan secara sederhana pada mahasiswa fakultas ekonomi universitas muhammadiyah sorong. Metode yang digunakan adalah metode survey dengan lokasi penelitian berada pada Universitas Muhammadiyah Sorong dan wawancara yang dilakukan kepada seorang dosen Mata Kuliah Akuntansi. di Universitas Muhammadiyah Sorong yang kemudian dianalisis secara deskriptif kualitatf.. Hasil yang diperoleh menunjukan mahasiswa sudah mengetahui cara penyusunan laporan keuangan, dan upaya untuk meningkatkan pengetahuan keterampilan dalam penyusunan laporan keuangan akan terus dilakukan melalui pelatihan-pelatihan.
References
Slamet Sugiri, 2000. Akuntans Pengantar 2. http://ejurnal.stiedharmaputra-smg.ac.id/index.php/JEMA/article/download/150/121 di download tanggal 16 Juli 2019.
Ikatan Akuntanasi Indonesia, 2002. Standar Akuntansi Keuangan.
Hidayati Nur Lina, 2018. Pelatihan Penyusunan Laporan Keuangan Sederhana Bagi Orang-Orang Yang Bekerja Pada Industri Kreatif Di Yogyakarta, diakses pada tanggal 17 juli 2019.
BZ Syam Fazli, 2018. Pelatihan Akuntansi dan Penyusunan Laporan Keuangan Bagi Manajer Dan Staf Keuangan Koperasi Usaha Penanaman Dan Pengolahan Kopi Di Kabupaten Aceh Tengah Dan Bener Meriah, diakses pada tanggal 17 juli 2019.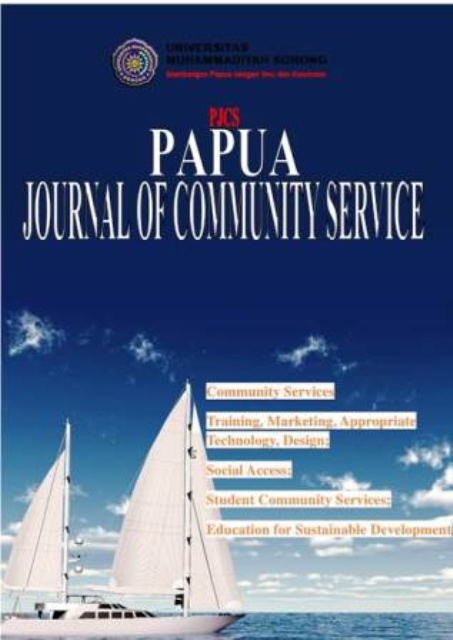 Downloads
License
Authors who publish with this journal agree to the following terms:
Authors retain copyright and grant the journal right of first publication with the work simultaneously licensed under a Creative Commons Attribution-ShareAlike 4.0 International License. that allows others to share the work with an acknowledgment of the work's authorship and initial publication in this journal.
Authors are able to enter into separate, additional contractual arrangements for the non-exclusive distribution of the journal's published version of the work (e.g., post it to an institutional repository or publish it in a book), with an acknowledgment of its initial publication in this journal.
Authors are permitted and encouraged to post their work online (e.g., in institutional repositories or on their website) prior to and during the submission process, as it can lead to productive exchanges, as well as earlier and greater citation of published work
Papua Journal of Community Service is licensed under a Creative Commons Attribution-ShareAlike 4.0 International License