Analisis Kinerja Perangkat Lunak Forensic Imaging Pada Sistem Operasi Linux Menggunakan Metode Static Forensic
Keywords:
Digital Forensic, Forensic Imaging, Linux, Opensource, Static Forensic
Abstract
Perkembangan teknologi berbanding lurus dengan kasus kejahatan siber (cybercrime), hal tersebut menjadi kunci perkembangan modus-modus dalam kejahatan siber, namun dapat di pastikan kejahatan tersebut akan meninggalkan jejak pada barang bukti, agar penyidik dapat leluasa melakukan penyidikan, barang bukti harus di duplikasi terlebih dahulu, namun hanya sedikit yang dapat berjalan pada sistem operasi linux. Tujuan penelitian ini adalah untuk melakukan analisis dan menemukan perbedaan kinerja diantara perangkat lunak forensic imaging pada sistem operasi linux tersebut dengan indikator keberhasilan duplikasi harus sesuai dengan keaslian barang bukti. Metode yang digunakan static forensic serta menggunakan kerangka kerja National Institute of Standards and Technology (NIST). Hasil penelitian ini menemukan bahwa proses imaging FTK imager lebih cepat 2 menit  18 detik dari perangkat lunak dc3dd dan 12 detik dari DDrescue, DDrescue merupakan perangkat lunak yang menggunakan resource paling sedikit, validasi nilai hashing sha1 pada analisis hasil imaging file perangkat lunak DC3DD, DDrescue dan FTK Imager adalah sama atau valid, hal tersebut membuktikan bahwa perangkat lunak tersebut mampu melakukan imaging dan dapat digunakan untuk mengakuisisi barang bukti kasus kejahatan siber di persidangan.
References
E. Chintia, R. Nadiah, H. N. Ramadhani, Z. F. Haedar, A. Febriansyah, And N. A. Rakhmawati S.Kom., M.Sc.Eng, "Kasus Kejahatan Siber Yang Paling Banyak Terjadi Di Indonesia Dan Penanganannya," J. Inf. Eng. Educ. Technol., Vol. 2, No. 2, P. 65, Feb. 2019, Doi: 10.26740/Jieet.V2n2.P65-69.
H. Djanggih And N. Qamar, "Penerapan Teori-Teori Kriminologi Dalam Penanggulangan Kejahatan Siber (Cyber Crime)," Pandecta Res. Law J., Vol. 13, No. 1, Pp. 10–23, Aug. 2018, Doi: 10.15294/Pandecta.V13i1.14020.
B. P. Ramadhan, A. Yudhana, And I. Riadi, "Implementasi Dan Analisis Serangan Phishing Menggunakan Router Wireless Berbasis Openwrt," P. 4, 2019.
I. Riadi, R. Umar, And I. M. Nasrulloh, "Analisis Forensik Digital Pada Frozen Solid State Drive Dengan Metode National Institute Of Justice (Nij)," Elinvo Electron. Inform. Vocat. Educ., Vol. 3, No. 1, Pp. 70–82, Jul. 2018, Doi: 10.21831/Elinvo.V3i1.19308.
A. Yudhana, I. Riadi, And I. Anshori, "Analisis Bukti Digital Facebook Messenger Menggunakan Metode Nist," It J. Res. Dev., Vol. 3, No. 1, Pp. 13–21, Aug. 2018, Doi: 10.25299/Itjrd.2018.Vol3(1).1658.
F. Yudha, E. Ramadhani, F. Rahma, And W. N. Hamzah, "Pendekatan Dd Sebagai Salah Satu Teknik Akuisisi Perangkat Android," Cyber Secur. Dan Forensik Digit., Vol. 3, No. 1, Pp. 33–38, Jul. 2020, Doi: 10.14421/Csecurity.2020.3.1.2000.
E. Haryanto And I. Riadi, "Forensik Internet Of Things Pada Device Level Berbasis Embedded System," J. Teknol. Inf. Dan Ilmu Komput., Vol. 6, No. 6, P. 703, Dec. 2019, Doi: 10.25126/Jtiik.2019661828.
Zhong, Xianming, Et Al., "A Virtualization Based Monitoring System For Mini-Intrusive Live Forensics," Int. J. Parallel Program., No. 43.3, Pp. 455–471, 2015.
Roussev, Vassil., "System Analysis," Digit. Forensic Sci. Springer Cham, Pp. 29–98, 2017.
E. Olson And N. Shashidhar, "Low Budget Forensic Drive Imaging Using Arm Based Single Board Computers," J. Digit. Forensics Secur. Law, 2016, Doi: 10.15394/Jdfsl.2016.1373.
D. Oleh, "Forensic Imaging Application Using Raspberry Pi" P. 96.
J. Panjaitan And A. C. Sitepu, "Analisis Kinerja Forensic Acquisition Tools Untuk Membuat Imaging File Pada Masalah It Forensik," Vol. 1, No. 2, P. 9, 2021.
M. N. Faiz And W. A. Prabowo, "Comparison Of Acquisition Software For Digital Forensics Purposes," Kinet. Game Technol. Inf. Syst. Comput. Netw. Comput. Electron. Control, Pp. 37–44, Nov. 2018, Doi: 10.22219/Kinetik.V4i1.687.
R. M. F. Lubis And J. Panjaitan, "Analisis Perbandingan Aplikasi Open Source Forensic Image Untuk Akuisisi Bukti Digital Ke Dalam Bentuk Image File," Vol. 2, No. 1, P. 9, 2022.
I. Riadi, S. Sunardi, And A. Hadi, "Analisis Bukti Digital Trim Enable Ssd Nvme Menggunakan Metode Static Forensics," Juita J. Inform., Vol. 8, No. 1, P. 65, May 2020, Doi: 10.30595/Juita.V8i1.6584.
F. Anggraini And A. Yudhana, "Analisis Forensik Aplikasi Tiktok Pada Smartphone Android Menggunakan Framework Association Of Chief Police Officers," Vol. 9, No. 4, P. 11, 2022.
M. I. Syahib, I. Riadi, And R. Umar, "Analisis Forensik Digital Aplikasi Beetalk Untuk Penanganan Cybercrime Menggunakan Metode NIST," p. 6, 2018.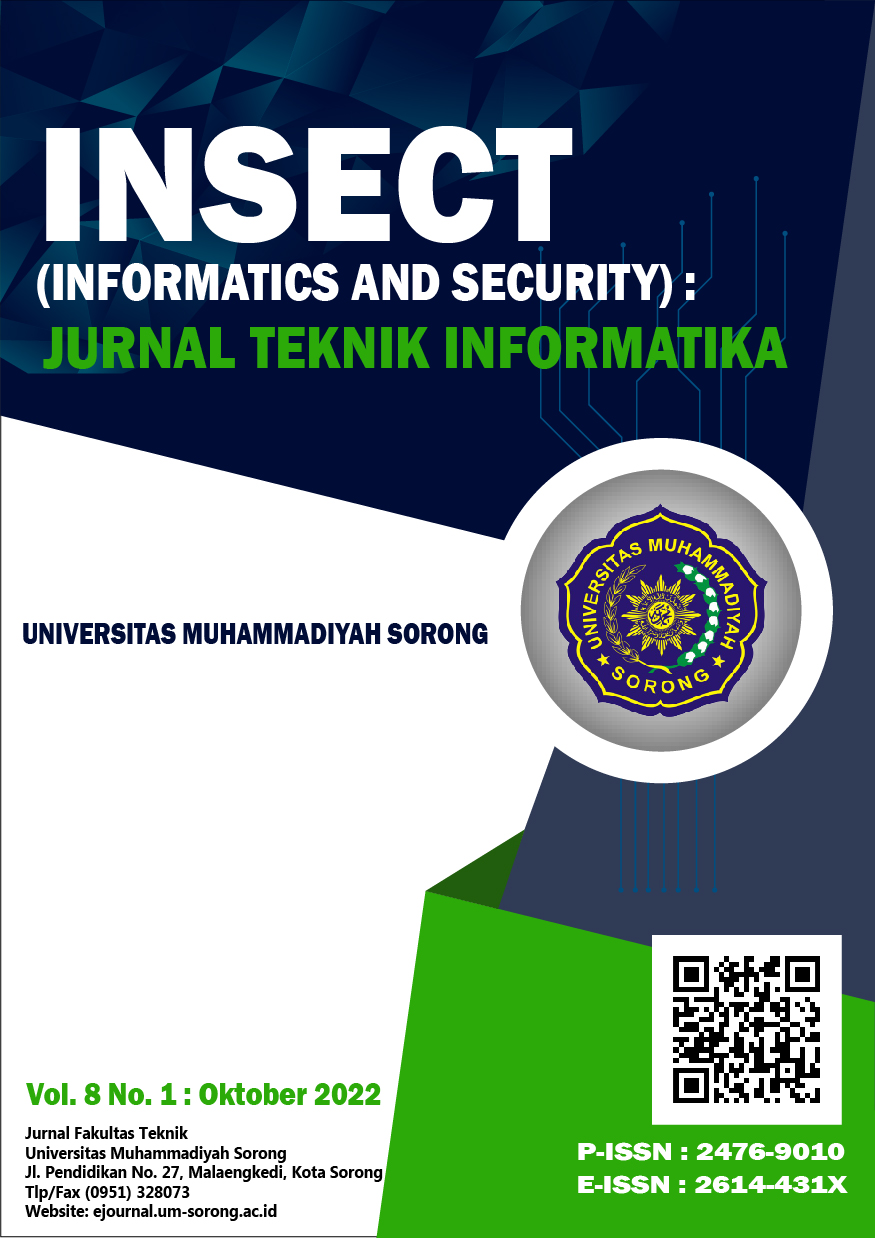 Downloads
How to Cite
budi putra, Yudhana, A., & Riadi, I. (2022). Analisis Kinerja Perangkat Lunak Forensic Imaging Pada Sistem Operasi Linux Menggunakan Metode Static Forensic. Insect (Informatics and Security): Jurnal Teknik Informatika, 8(1), 38–47. https://doi.org/10.33506/insect.v8i1.1962
License
Copyright (c) 2022 budi putra, Anton Yudhana, Imam Riadi
This work is licensed under a Creative Commons Attribution-ShareAlike 4.0 International License.