Aplikasi Sebagai Penentuan Pola Spasial Breeding Place Di Sekitar Aliran Sungai Progo
Abstract
Kedekatan dengan sungai merupakan area rawan terhadap penyakit demam berdarah. Belum adanya aplikasi yang dapat menentukan sebaran breeding place yang hasilnya dikombinasikan secara spasial. Penelitian ini bertujuan membuat aplikasi, mempelajari pola spasial dan pengaruh  kedekatan sungai  Progo terhadap perkembangbiakan nyamuk Aedes aegypti. Populasi berada di empat  wilayah Kabupaten Bantul yang dekat aliran sungai Progo. Ada empat desain studi yang digunakan yaitu studi assessment, experiment, observasi  dan modelling. Data dianalisis dengan  ArcGis 10.3. Koordinat diexport ke ArcGis untuk menvisualisasikan penyebaran breeding place sebagai variabelnya. Teknik analisa menggunakan skor dan buffer, Mean Center, Average Nearest Neighbor (ANN), Moran's Index dan regresi berbobot geografis (GWR). Hasil nilai ANN diperoleh bahwa sebaran breeding place memiliki rasio sebesar 0,442891 , Z-score sebesar -11,963454 , Moran I  nilai z-score = 9,004  dan  dengan metode GWR  r2= 0.79. Kesimpulan dari penelitian ini bahwa kedekatan dengan sungai mempunyai pengaruh besar terhadap perkembangbiakan breeding  place. Empat kecamatan Bantul yang dekat dengan Sungai Progo yaitu Sedayu, Pajangan, Pandak dan Srandakan. Pusat rata-rata perkembangbiakan breeding place terletak di Pajangan
References
S. Wijirahayu and T. W. Sukesi, "Hubungan Kondisi Lingkungan Fisik dengan Kejadian Demam Berdarah Dengue di Wilayah Kerja Puskesmas Kalasan Kabupaten Sleman," J. Kesehat. Lingkung. Indones., vol. 18, no. 1, pp. 19–24, Apr. 2019.
M. F. Salim, M. Syairaji, K. T. Wahyuli, and N. N. A. Muslim, "Pengembangan Sistem Informasi Surveilans Demam Berdarah Dengue Berbasis Mobile sebagai Sistem Peringatan Dini Outbreak di Kota Yogyakarta," J. Kesehat. Vokasional, vol. 6, no. 2, p. 99, 2021.
A. Sulistyo, Sunardi., A. Yudhana, and R. Aini, "Analisa Perbandingan GPS Google Maps Dan GPS Google Earth Dalam Penentuan Titik Koordinat Breeding Place," Respati, vol. 13, no. 3, Nov. 2018.
S. A. Putri1 and S. Anggraeni, "View of ANDROID-BASED MOSQUITO LARVA RECORDING SYSTEM DESIGN USING CERTAINTY FACTOR METHOD FOR DBD ENDEMIC CONTROL," J. TECHNO Nusa Mandiri, vol. 16, pp. 147–154, 2019.
A. Yudhana and M. D. D. Putra, "Rancang Bangun Sistem Pemantauan Infus Berbasis Android," TRANSMISI., vol. 20, pp. 91–95, 2018.
N. Saputri, A. Oktarini, R. . Halim, and Nasrul, "Aplikasi Peta Titik Rawan Banjir di Kota Palembang," J. Teknol. Inf. dan Ilmu Komput., vol. 6, no. 4, p. 450, 2019.
M. Thet Htar Nyo, W. Zaw Hein, and A. Professor, "Design and Construction of Navigation Based Auto Self Driving Vehicle using Google Map API with GPS International Journal of Trend in Scientific Research and Development (IJTSRD) Design and Construction of Navigation Based Auto Self-Driving Vehicle using Google Map API with GPS the Creative Commons Attribution License (CC BY 4.0) (http://creativecommons.org/licenses/by /4.0)," 2019.
Y. J. Supriyadi and Y. Suryatinah, "Pola kepadatan populasi vektor penyakit DBD di permukiman penduduk bantaran Sungai Martapura Kecamatan Martapura Timur Tahun 2017 The density pattern of DHF vector in the residential area of Martapura River Sub District East Martapura in 2017," vol. 4, no. 2, pp. 65–72, 2018.
"Profil Kesehatan Kab.Bantul," 2021. [Online]. Available: https://dinkes.bantulkab.go.id/filestorage/dokumen/2021/05/Profil Kesehatan 2021.pdf.
A. Sulistyo, Sunardi, A. Yudhana, and R. Aini, "Kombinasi Teknologi Aplikasi GPS Mobile dan Pemetaan SIG dalam Sistem Pemantauan Demam Berdarah (DBD)," Khazanah Inform. J. Ilmu Komput. dan Inform., vol. 5, no. 1, pp. 6–14, 2019.
T. Elisabet, L. X. Erick, and M. Denny, "Analisis Sebaran Makam Adat Toraja Di Kecamatan Sesean Suloara Kabupaten Toraja Utara," J. Pendidik. dan Penelit. Geogr., vol. Vol. 1 No., no. 2, pp. 47–51, 2020.
S. Syamsir and D. M. Pangestuty, "Autocorrelation of Spatial Based Dengue Hemorrhagic Fever Cases in Air Putih Area, Samarinda City," J. Kesehat. Lingkung., vol. 12, no. 2, p. 78, 2020.
R. E. Caraka and Hasbi Yasin, Geographically weighted regression (GWR) Sebuah pendekatan Regresi Geografis, 1st ed. Yogyakarta: Mobius, 2017.
A. P. Kirilenko, "Geographic Information System (GIS)," pp. 513–526, 2022.
L. Riza and A. Emma Pravitasari, "Daya Dukung Lahan dalam Perencanaan Tata Ruang Wilayah View project Spatial Modelling of Land Use Change in Gunung Halimun Salak National Park and Its Buffer Area View project," TATA LOKA, vol. 21, pp. 253–266, 2019.
A. Putra Wijaya and A. Sukmono, "ESTIMASI TINGKAT KERAWANAN DEMAM BERDARAH DENGUE BERBASIS INFORMASI GEOSPASIAL," J. Geogr. Media Inf. Pengemb. dan Profesi Kegeografian, vol. 14, no. 1, pp. 40–53, May 2017.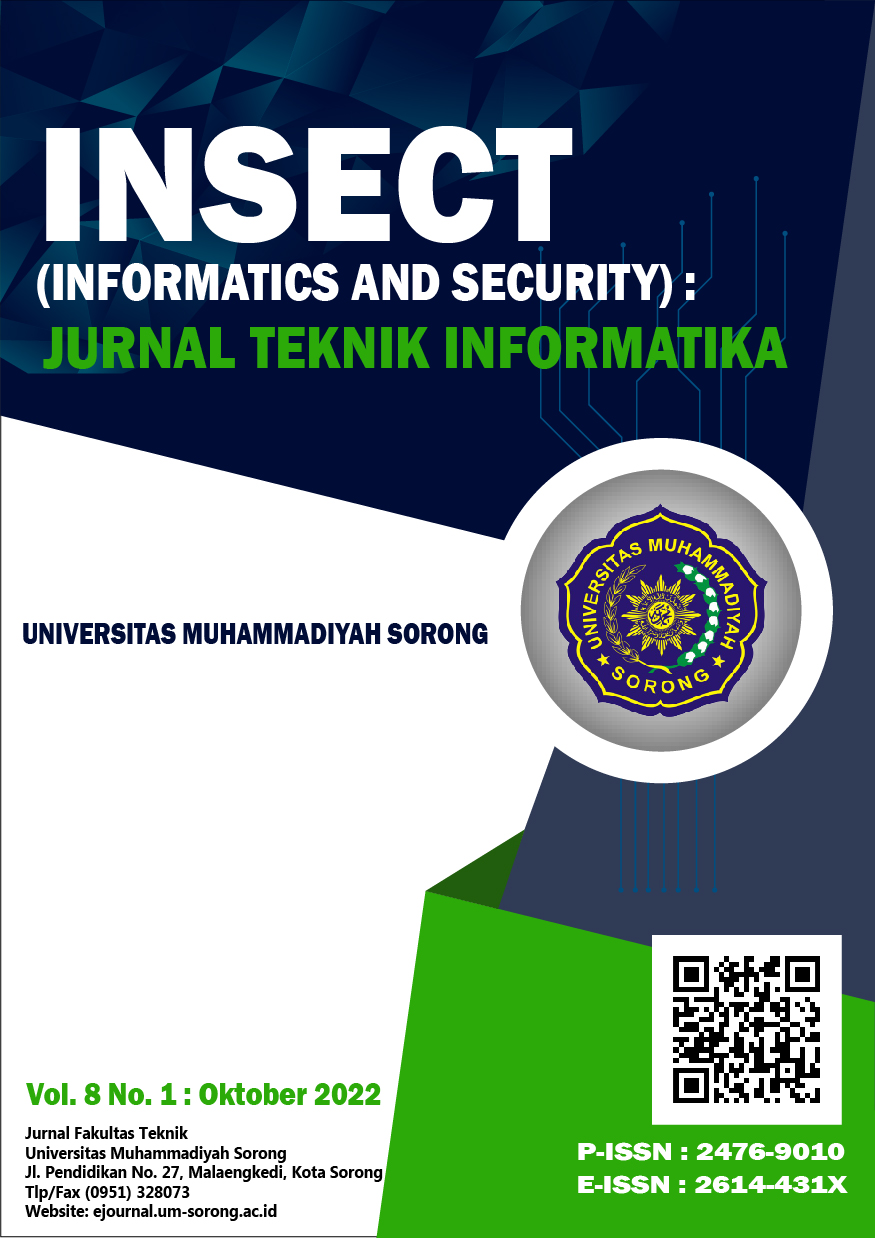 Downloads
How to Cite
sulistyo, A., & Aini, R. . (2022). Aplikasi Sebagai Penentuan Pola Spasial Breeding Place Di Sekitar Aliran Sungai Progo. Insect (Informatics and Security): Jurnal Teknik Informatika, 8(1), 1–10. https://doi.org/10.33506/insect.v8i1.1897
License
Copyright (c) 2022 Andhy sulistyo; Resmi Aini
This work is licensed under a Creative Commons Attribution-ShareAlike 4.0 International License.