Welcome To Universitas Muhammadiyah Sorong
All articles published by Universitas Muhammadiyah Sorong. Oai Portal Base address: http://ejournal.um-sorong.ac.id/index.php/index/oai
All Journal has been indexed and abstracted by:
Google Scholar
Indonesia One Search
Garuda - Gerba Rujukan Digital
Bielefeld Academic Search Engine (BASE)
ROAD

OJS UMSORONG Stats
A B C D E F G H I J K L M N O P Q R S T U V W X Y Z All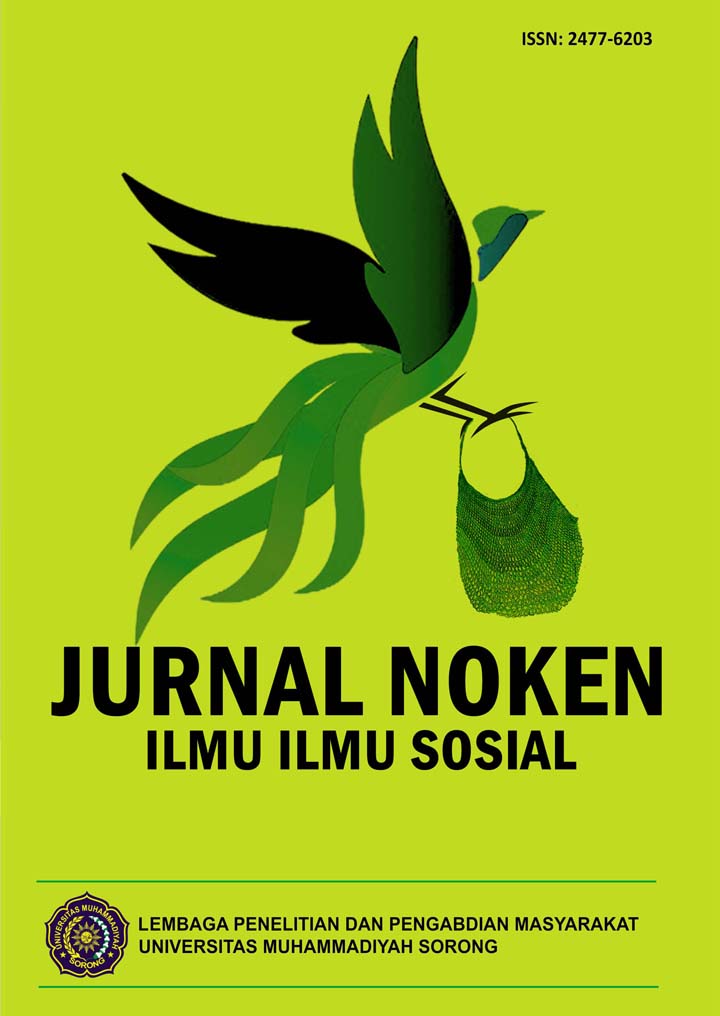 JURNAL NOKEN : Ilmu-Ilmu Sosial
ISSN : 2477-6203 (cetak)
ISSN : 2614-4336 (Online)
Jurnal Noken (Social Science) is biannual publication issued in the month of December and June. Jurnal Noken is a scientific journal which prioritizes the publication of articles (research and non-research based) regarding to social science issues that deal with social science issues such as social and political problem, education, law and others. Jurnal Noken Published by LPPM Universitas Muhammadiyah Sorong
View Journal | Current Issue | Register
Jurnal Teknik Sipil : Rancang Bangun
Jurnal Teknik Sipil : Rancang Bangun (p-ISSN: 2476-8928, e-ISSN:2614-4344) is a journal that publishes the results of research in the field of civil engineering. This Journal is biannual publication March and October and receives a manuscript from the following area.
View Journal | Current Issue | Register
JUSTISI
Justisi (p-ISSN :
1979-7532
, e-ISSN : .............)  sebuah jurnal yang diterbitkan oleh Lembaga Penelitian dan Pengabdian Kepada Masyarakat dan Fakultas Hukum Universitas Muhammadiyah Sorong. Justisi mengundang para peneliti, dosen, dan praktisi dalam bertukar dalam memajukan keilmuan di bidang hukum yang meliputi berbagai aspek hukum seperti Hukum Pidana, Hukum Perdata, Hukum Tata Negara, Hukum Administrasi Negara, Hukum Acara, dan sebagainya. Justisi diterbitkan dua kali setahun pada bulan Januari dan Juli.
View Journal | Current Issue | Register
1 - 3 of 3 Items