Welcome To Universitas Muhammadiyah Sorong
All articles published by Universitas Muhammadiyah Sorong. Oai Portal Base address: http://ejournal.um-sorong.ac.id/index.php/index/oai

The Journal registered in the Crossref with Digital Identifier Object (DOI) Prefix 10.33506
All Journal has been indexed and abstracted by:
Google Scholar
Indonesia One Search
Garuda - Gerba Rujukan Digital
Bielefeld Academic Search Engine (BASE)
ROAD

OJS UMSORONG Stats
A B C D E F G H I J K L M N O P Q R S T U V W X Y Z All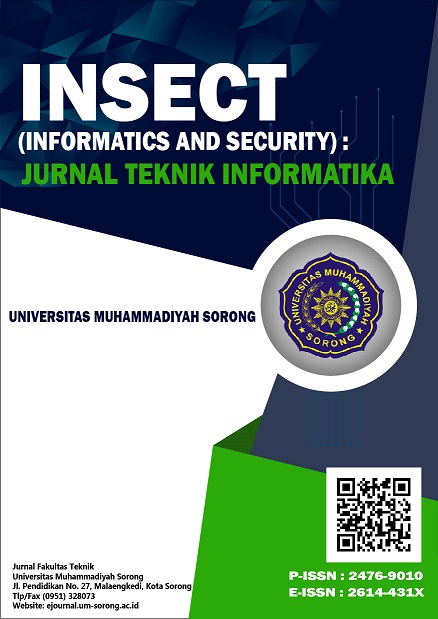 Insect (Informatics and Security): Jurnal Teknik Informatika
Insect (Informatics Engineering Journal)

p-ISSN : 

2476-9010

 - e-ISSN : 

2614-431X is a scientific journal which prioritizes the publication of articles related to informatics and Security issues that deal with informatics and security issues such as information technique, network and others. This is an opened-journal where everyone can submit their articles, as long as they are original, unpublished and not under review for possible publication in other journals. insect Journal is biannual publication issued in the month of October and March.
View Journal | Current Issue | Register
1 - 1 of 1 Items