Welcome To Universitas Muhammadiyah Sorong
All articles published by Universitas Muhammadiyah Sorong. Oai Portal Base address: http://ejournal.um-sorong.ac.id/index.php/index/oai

The Journal registered in the Crossref with Digital Identifier Object (DOI) Prefix 10.33506
All Journal has been indexed and abstracted by:
Google Scholar
Indonesia One Search
Garuda - Gerba Rujukan Digital
Bielefeld Academic Search Engine (BASE)
ROAD

OJS UMSORONG Stats
A B C D E F G H I J K L M N O P Q R S T U V W X Y Z All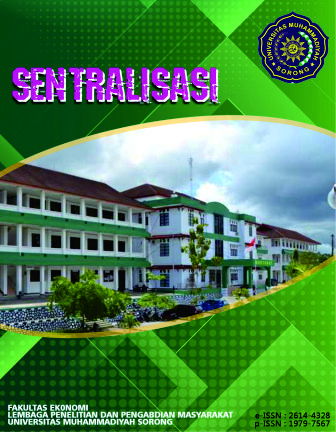 SENTRALISASI
Sentralisasi (p-ISSN: 1979-7567, e-ISSN: 2614-4328)is  Journal of Economic Science scientific peer-reviewed journal published by LPPM Universitas Muhammadiyah Sorong, Indonesia  and Since estabilished in 2012. Sentralisasi is intended to provide a medium for dissemination of original and quality research on various topic in look the Focus and Scope and other related fields to be published two times a year (January and June). Sentralisasi issue consist Economic, Development Economic, Bussines, Social Economic, Acounting, Islamic Economic, Management, Human Resource Management and Entrepreneurship.
For author, please read these journal guidelines and template carefully. Authors who want to submit their manuscript to the editorial office of Sentralisasi should obey the writing guidelines.
The Journal Registered in the CrossRef with Digital Object Identifier (DOI) Prefix 10.33506
Sentralisasi has been indexed and abstracted by:
View Journal | Current Issue | Register
1 - 1 of 1 Items