Journal History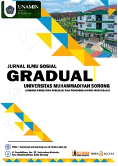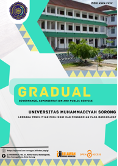 2017: Journal of Governance Administration and Public Service or called GRADUAL (GD) is one of the periodicals published by the Faculty of Social and Political Sciences managed by LPPM Muhammadiyah University of Sorong. The GRADUAL journal is published twice a year, namely in January and July. The first online issue of Vol. 6 No. January 1, 2017 with 10 articles.
2019: The second online issue of Vol. 7 No. January 1, 2018, with 10 articles
2022: The third online issue of Vo. 8 No.1 January 2019 with 5 articles and vol. 8 No.2 July 2019 with 5 articles.
2023: The GRADUAL journal has updated its appearance, complementing the team of editors and reviewers.